September 29, 2006
September 27, 2006
September 25, 2006
September 15, 2006
It's Only Value Is That It Has No Value
All my bicycles are street bicycles, there are no dirt trails, half pipes or beautiful mountain passes in their future, only the torn urban asphalt of New York City. But there a whole variety of urban bicycles out there, and my latest frame finally emerged from six months of bike shop limbo with a working bottom bracket, which gives me three bikes, or one too many for an apartment dweller like me. The only question is which bike to get rid of, and it's proving to be a trickier problem than expected.
From a purely bike riding perspective its an easy question, the one I call my neighborhood cruiser has practically no value at all, it's worth more as parts than as a complete bicycle and those parts are not worth much.** It shouldn't be too hard to part with, should it? But that is exactly the problem. I live in New York City and this bike is actually tremendously valuable based on the sole fact that it has no value.
This is a bike I can lock up on the street and not stress about in the least. I can, and do even leave it out overnight. From an economic standpoint this creates quite an interesting situation, a value that can not be monetized, for the very act of this feature taking on a monetary value would eliminate any value that existed. A bike with a real monetary value is worth stealing and that translates directly into both financial risk and psychological stress for a bike owner.
From a purely urban perspective this is an easy problem as well, the nicest bike, with the nicest parts has the least use in the city. Sure it's nimble and quick, and the Phil Wood hubs are both buttery smooth and the most capable of handling the urban grit and grime over a lifetime that via sale or theft will probably be far longer than I will own them. It's both a little to valuable and little too sensitive to be an everyday, no matter the weather, vehicle. It's tight track geometry can zig and zag through every urban obstacle, but it also translates every bump and crack in the road back to the rider with far more precision than comfort. It is quite literally a physical manifestation of the phrase "too much information". As beautiful as thing is to ride it tells me a bit more about the state of the streets beneath me than my body wants to know. But as much as I love the city this is far to sweet a machine for me to just let go of and so it stays, it's visceral aesthetics trumping pure practicality.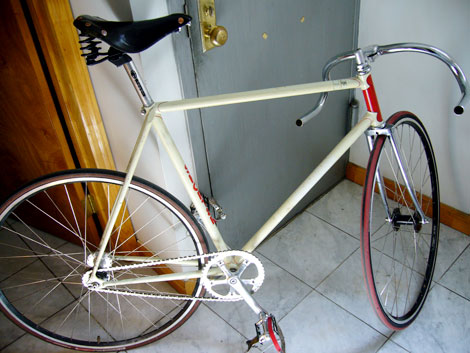 Tactically the best maneuver would to take the middle machine, and somehow make it "street stable", somehow degrade it's value to a point it can be left locked up along overnight without much stress. It's perhaps an impossible task, how do you devalue a bicycle without eliminating just what makes it a good, fun thing to ride? This is a frame that's been evolving into what might be called an "inverse hybrid", a new style monster uniquely suited for urban riding.
The bicycle industry currently pumps out some hideous beasts it calls hybrids, essentially overgrown mountain bikes designed to be ridden fully upright. Basically they make it easier to ride over potholes while sucking the joy out of every other aspect of urban bike riding. The inverse hybrid is the reverse, fixed gear gives you control and real sense of the road, while chopped riser handlebars put you in the ultimate urban riding position. Higher than the drop bars of a road bike, but lower and narrower than the chunky riser bars of a mountain bike. It handles almost like an overgrown BMX, if a BMX was capable of any real speed and efficiency on the city streets. It's a stance that gives a unique combination of maneuverability, visibility, hopping ability and just the right feel of the road in your hands.
The challenge now is to make an inverse hybrid that no one wants to steal. So just how do you make something that's only value is that it has no real value?
** This is particularly true at this time of year, the beginning of the fall and the end of the bike season. Odds are for a few months in the spring this bike will be more valuable than the sum of it's parts, only to lose that property as days begin to get shorter.
September 14, 2006
September 10, 2006
September 09, 2006
September 06, 2006
September 05, 2006
September 04, 2006