November 24, 2005
Metataggers: Digital Graffiti / Empire / Archives
There are certain digital thresholds of history, points in which the type and amount of data available via computers and their networks changes radically. The point in which magazine and news articles are available via Lexus/Nexus for example, or the points in which archive.org started archiving the internet and DejaNews (now part of Google) started archiving the usenet.
It's not quite as clear a line, but I have a feeling one day the point in which everything started to get blogged will mark another such transition. Case to point I started digging around for the web evidence of a show I did back all of 3 years ago, september 2002. Neither archive.org nor google revealed the precise material I wanted, the gallery's original web page for the show. Instead I found a short post on evhead.com, the blog of Evan Williams founder of Blogger. I guess that's worth some geek cred... In anycase if something soon won't exist unless its been blogged, I best document this thing...
Metaggers: Digital Graffiti was the name, featuring the art of Shep Fairey, Paul Miller and 47 which at the time was me, [sic] and Ethan Eismann. Among the pieces I had in it was "Empire" which you can view "after the fold" for this entry.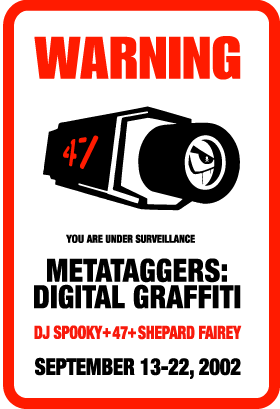 Empire:
Posted by Abe at November 24, 2005 11:23 AM