February 27, 2004
A Token Fair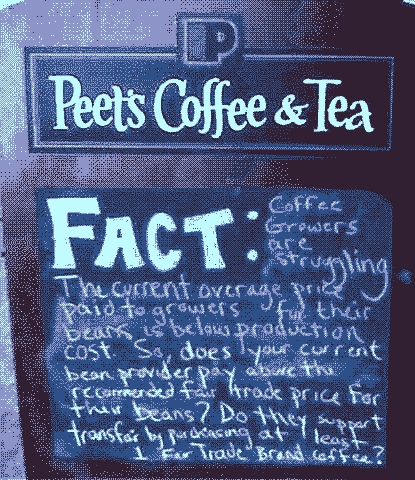 Ok, unlike some of my generation I am down with chain stores. Fascinated really. But of course there are... problems. Peet's might be the best of all chains, the coffee is damn good. Their brand is obsessive attention to quality, and it works. Austin TX is coffee shop heaven, indies everywhere and atmosphere wise many blow away Peet's NPR set piece interior. But for better or worse Peet's still has the best coffee I've had in this town, so far at least.
But then, the sign, pictured above. Obviously not written by the central office, but still. Read it. "The current average price paid to growers is below production cost" Stated as fact, may well be true.
What's fucked up is that they try and pimp the fact that they sell Fair Trade coffee. The problem, Peet's sells 32 types of coffee. One of them is fair trade. ONE.
So read the sign, what does it say. 96% of the coffee Peet's buys is purchased at below production cost for the grower. Then as a token, once a month Peet's brews up it's fair trade jammy. And that's supposed to be a good thing?
Now I appreciate that Peet's is making a little bit of an effort, but who the hell wrote that sign? And is it a product of just plain stupidity or an environment that encourages the celebration of token actions?
Posted by Abe at February 27, 2004 10:58 AM