January 28, 2004
NYC Events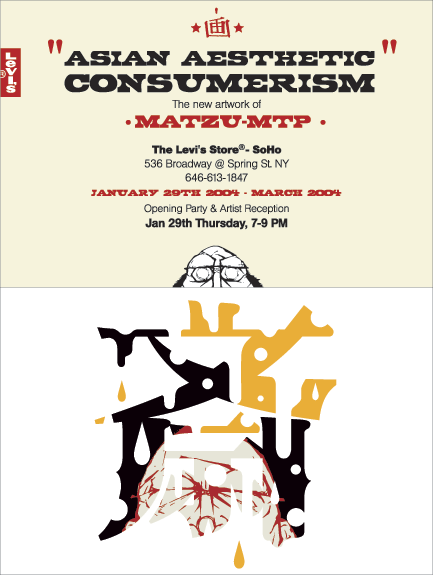 And then next week good music comes to NYC!
The one to check Andrew Weatherall playing a disco punk set at APT a week from Thursday, watch out. Here is the word from promoter Roy Dank:
Andrew Weatherall is playing a special punk-funk set at Pop Your Funk, much like his coveted Nine O'Clock Drop mix CD for the Nuphonic label. This is the first time he's done this in America and quite possibly the most intimate gig he's ever done in NYC so this is indeed a special night! Brennan Green from Balihu, Modal and Peacefrog and Roy Dank of Mathematics (who will be touring Europe just a couple days later) will be playing on the night as well.
Thursday February 5th, Open Smirnoff Bar 9-10pm. Come early to ensure entry. $8 adv / $10 at the door.
APT is somewhere in the meat packing district, look it up cause I'm too lazy too...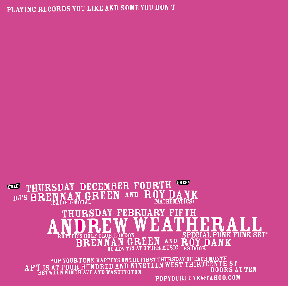 On the more hyped tip Dizzee Rascal drops in to new Williamsburg venue Volume. Still not feel the anglophile hype dropped upon Mr. Rascal, but Matthew Dear is playing so there is a back up if Dizzee falls flat... And it's a Soundlab party which means it should be more creative then your average club night.
Saturday February 7, 9:30 - sunrise @ Volume, 99 N 13th St at Whythe.
Official opening of the club is apparently this weekend btw...
Last but not least, right down the street sits NY's best café St Helen. 150 Whythe, at N 8th, peep it while you still can get a seat...
Posted by Abe at January 28, 2004 03:42 PM