January 01, 2004
Missing Foundation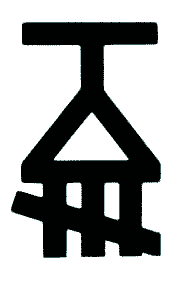 Writing about Missing Monuments, must have put Missing Foundation into my head. Missing Foundation is one the few bands that are known more for their iconography then for their music. Even in their hometown of New York few have heard their raw industrial sound. But for years in the late 80's early 90's their upside down wine glass was spraypainted and stenciled all over Alphabet City. The defacto logo of the squatters and housing activists fighting a loosing battle against the gentrification of the area. And it quite literally was a battle, with squatters squaring off against cops in shantytown of Tompkins Square Park.
Of course now the hood resembles the Upper West Side with pr girls sipping lattes at the dog run, and its pretty arguable whether the city is any worse off for it. The spirt of the old Alphabet City has long since journeyed through the Lower East Side and Williamsburg and hovers over Bushwick and perhaps the northern tip of Greenpoint.
Meanwhile the music world is poised to move into an industrial revival as the cocaine highs of Electroclash, the Eighties revival and Garage rock comes crashing down together. September brings the Republican National Convention to New York, and I suspect the echoes of Missing Foundation will ring louder then they have in a decade.
Posted by Abe at January 1, 2004 09:56 PM