November 08, 2003
Get. That. Dirt. Off. Your. Sholder.
With a nod to S/FJ we present our almost completely metric review of the Black Album: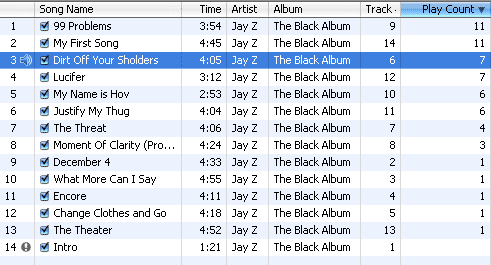 note we cheated by highlighting Dirt Off Your Shoulder, which is certainly leading in playback outside of iTunes. The objective list would be more like First Song, Dirt Off, 99, Lucifer, Threat, Moment of Clarity (underrated in the reviews I've seen). Also note how important sequencing is, I just haven't listened to any of the tracks that appear before Dirt enough.
Posted by Abe at November 8, 2003 06:26 PM