July 31, 2003
Smoke, Mirrors, War, Economy
So I read the headlines today, GDP grows 2.4%, finally some good news on the economic front. And unlike some I don't hate Bush so much that I don't want the economy to recover. We can get rid of him anyway. Anyway the good news last a whole couple of hours before the good Billmon set it strait: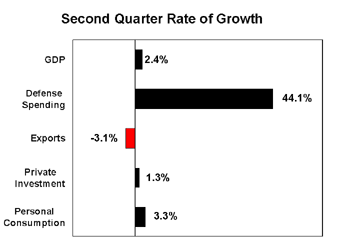 Whiskey Bar: War, What is it Good For?
Shit, damn, motherfscker... At least the economy grew 0.7% that's better then nothing. But damn can Bush get anything right besides putting money in his friends pockets?
addendum: if that wasn't bad enough, Calpundit points out that the 2.4% number is projection for the whole year! It takes about 3.5% a year in growth just to the country from losing jobs. So were looking at something more like 1% growth this year, in other words a hair better then a full on recession. Like father, like son, only bolder and dumber, great.
Posted by Abe at July 31, 2003 03:29 PM