June 30, 2003
I'll Trade you Two Pinochets for One Franco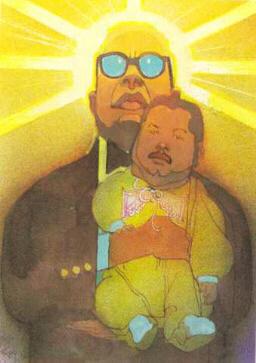 Remember the Friendly Dictators? Well America want's you to forget them. But way back in the day (1990) one of my favorite comic artists Bill Sienkiewicz illustrated a set of Friendly Dictator trading cards. Beautiful in that twisted dictator sort of way. Not sure if I used to own them, or just got to rub my grubby hands on them at some point, but they seem subtly pertinent in this day and age. How? Well, now we don't need to hire freelance friendly dictators in other countries, we just keep them in house. You know, the white one... Anyway enjoy em you sick mofos.
[via Social Design Notes]
and since we brought up Franco, lets make it positive by mentioning the other Franco, aka the Rumba Giant of Zaire. A true master musician. Hopefully he's remembered far longer by history.
Posted by Abe at June 30, 2003 05:17 PM